News:
Do you want to double the value of your new home in 2 years?
More info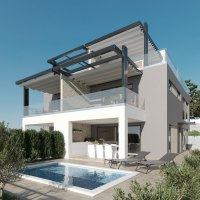 Location: Tkon - Croatia (
map
)
Transaction: For sale
Property type: Flat/apartment
Total number of rooms: 3
Bedrooms: 2
Bathroom: 2
WC: 2
Floor: 1
Total floors: 2
Price: 280 000 EUR (2.103.950 kn)
Area: 85 m2
Garden area: 100 m2
We have prepared top quality apartments and villas for you at the Tkon location, island of Pašman.
The project consists of 7 residential buildings that plan to close the residential area Tkon.
A beautiful picturesque Dalmatian place located on the southern part of the island of Pašman; connected to the mainland by a direct ferry line from Biograd na moru. The island of Pašman is a beautiful Dalmatian island with numerous sandy beaches and untouched nature and is located in the immediate vicinity of the Kornati National Park and the Telašćica Nature Park.
Our residential buildings are superbly equipped
Data on the residential building
"A" energy certificate
Reinforced concrete construction
Stone staircase
Ceramics, parquet in I class
Satellite/TV system
Anti-theft entrance door
Interior joinery – white
Top quality electrical installations
Superior bathroom equipment
Pool/Jacuzzi
The completion of the construction of a residential building with four apartments is planned for 2022; two one-story on the ground floor and two two-story on the 1st and 2nd floor. Each apartment comes with one or two parking spaces, garden or terrace, swimming pool or jacuzzi.
Apartment 1: 85.25 m2
Apartment 2: 84.75 m2
Apartment 3: 117.60 m2
Apartment 4: 117.60 m2
The construction of six family houses/villas with swimming pools is scheduled for 2023.
The land on which all the facilities are being built is thirty meters away from the sandy beach, while the land offers a beautiful view of Biograd na Moru.
---
Please leave your contact number and email, and I will get back to you immediately.
prodej
Svojsíkova, Praha 6, Břevnov, Praha, území Hlavního města Prahy
pronájem
Rezervováno
Novodvorská, Praha 4, Braník, Praha, území Hlavního města Prahy
prodej
Praha 6, Břevnov, Praha, území Hlavního města Prahy